Destructive & Dangerous Wards

Male Building
Female Building
Appropriation Year: 1903
Appropriation Year: 1905
Construction Started: 1904
Construction Started: 1906
Construction Finished: 1906
Construction Finished: 1907
Building Opened: 1906
Building Opened: 1907
Demolished:
Demolished:
Current Building Number: 23
Current Building Number: 33
Alt Name(s):
- Cedarcrest
- Male Violent Ward
- Male 7&8
Alt Name(s):
- Cherrywood
- Female Violent Ward
- Female 7&8

Architect: Addison Hutton
Building Type: Patient Wards
SEE IT ON A MAP: Male / Female (Building is highlighted in yellow)

Built in 1904 and 1906, the Violent Ward Buildings housed the most disturbed and noisy patients. The original design of the buildings were laid out with an open air court yard in the middle where patient would be able to enjoy fresh air and sunlight, but still be in a controllable environment. Today (2009) the male building still has it's court yard, the female building however has had it's court yard closed in and converted to additional rooms and offices. Both the male and female buildings received several additions over the years, but from the outside the original sections of the buildings do still appear almost exactly as they did in 1905 and 1908.

Vintage Photos & Postcards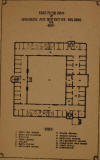 Contemporary Photos



















































[Back]
____________________________________________
Copyright 2007 - 2016 • Thomas Industries • All rights reserved